If you ever purchased a duplicate SVG file on our website, this is for you. Although I know that many of you keep track of the SVG files purchase, we sometimes accidentally purchase a SVG file again. Because of this, I added a few messages to the website to notify you when you are trying to purchase a file you already purchased. This temporary solution will work whether you are purchasing paid or free SVG files from our website. I say temporary, as I am still not satisfied with this solution 100%. Below this video is an overview, but I highly recommend watching the video for a more detailed explanation.
Video Tutorial
Already Purchased notification while browsing Shop
I recommend logging in via My Account first prior to shopping on Simply Crafty SVGs. This way, if you are browsing the shop view, you will see a message similar to below, if you already purchased the file. Clicking on "DOWNLOAD" will open your Downloads page in your Account. However, if you open the product page, it currently will not present this message.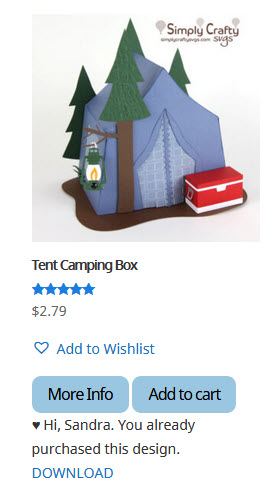 What if you add it to your cart?
If you do not see this message and add a previously purchased SVG to the cart, you will be see following message, telling you if you have any products in your cart that you already purchased in the past. Remove the listed SVG file(s) to prevent a duplicate purchase. Click the "X" to remove the product, as shown below.
Once you remove the SVG files(s), you the error message will disappear.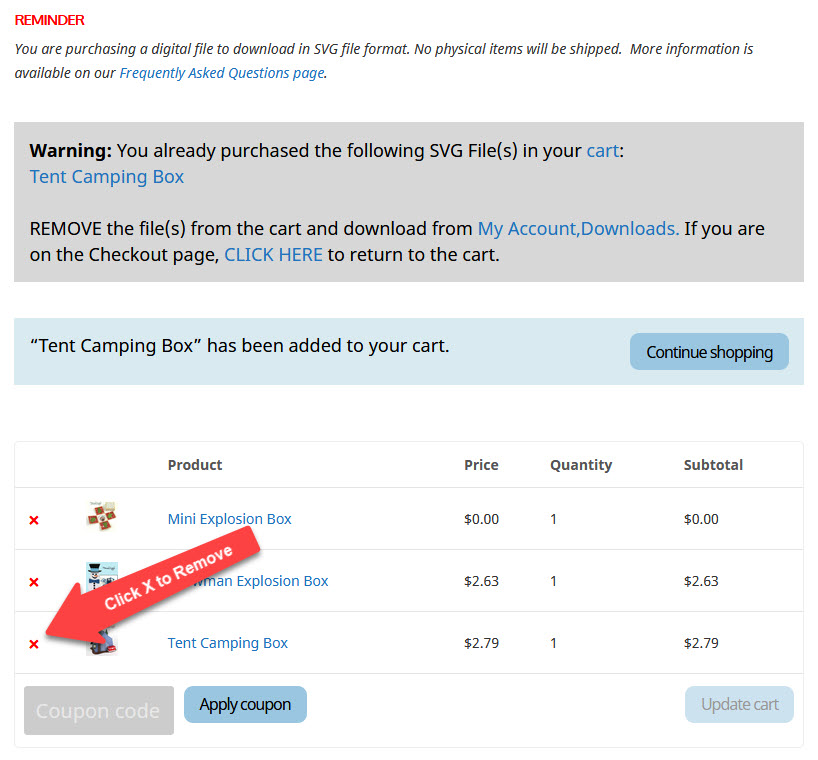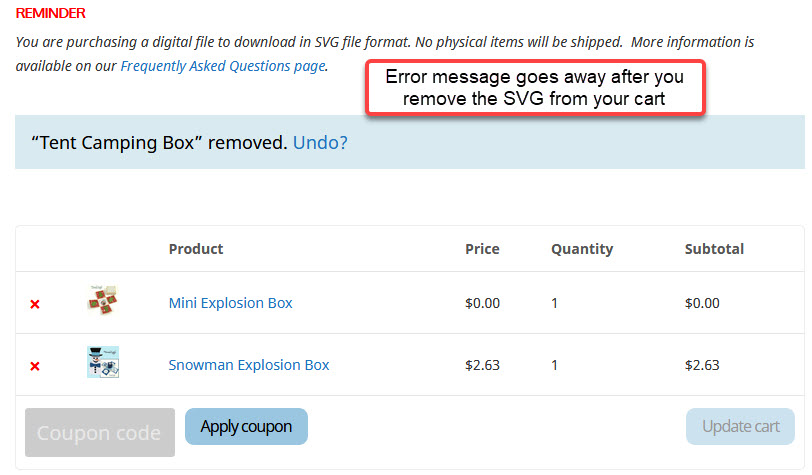 What happens if I am not logged in while shopping?
If you are not logged in and you log in until you log in to checkout, you will see with the same error message. Click on the "CLICK HERE" link shown below to go back to the cart to remove the SVG file(s) and resume checkout.

To access your Downloads anytime, go to your Account and click on Downloads from the side menu to view all your downloads you have already purchased, in alphabetical order. If you have any trouble, help is just a click away via our Contact form!
-Sandy