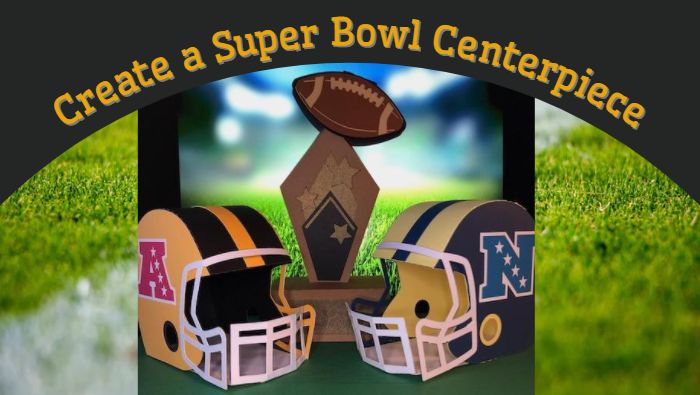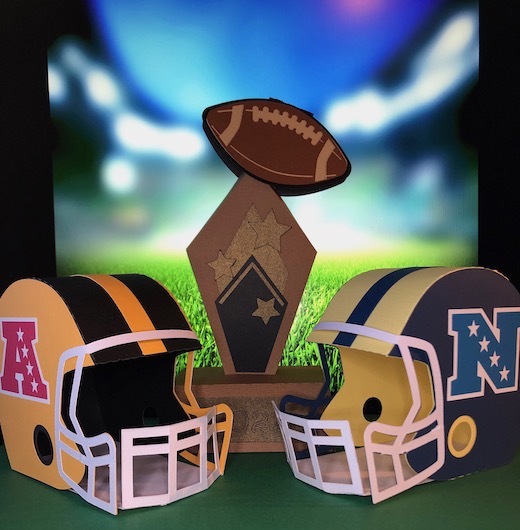 Create the perfect centerpiece for this year's BIG GAME using the Football Helmet and the football version from the Sports Trophy file! The 2022 Super Bowl is just around the corner… did your teams make it? Ours didn't, but that doesn't mean there's not just a little bit of interest in the day's events.
There's still time to get a few pieces put together for the February 13th big game! Decorate your table with these and surround them with all those yummies you'll feast on during the game.
Files used:
Helmets: Follow the video instructions to construct the helmets. The boxes were left out of this version. Just adhere the front guard to the bottom near the back of the inside of the helmet. Decorate the outside of the helmet as desired. You can even create a sticker for each of the football conferences using a chunky serif font and some stars from your cutting software library and printable vinyl or choose a favorite player's number and apply to the side of the helmets

If you choose to use the small box included with the helmet file, you can fill them with small treats – and make one for each of your guests to take home!

Trophy: Cut all the pieces. Use the foil quill to personalize the trophy with the year or your favorite team. Assemble the base. Assemble the football. TIP: Use textured paper for the football on the trophy. It's a perfect addition and doesn't require an embossing folder.
Adhere the shapes to the front of the trophy top as desired, assemble and attach to the base.
Add other embellishments as desired. There are several other options available on the website for you to use for your Bowl game celebration. Consider using any of these:
Football Goal Post Box
Football Favor Box
Mini Football Treat Box
Football Uniform Box
Football Popcorn Box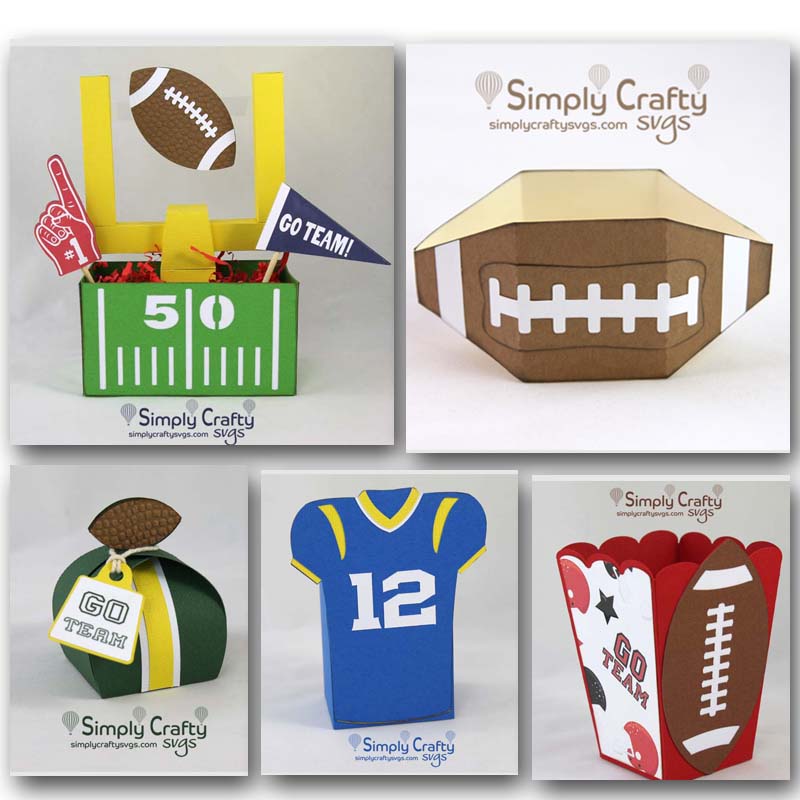 And be sure to share your Simply Crafty SVG creations with us on our Facebook Creators Group. You'll find it here.