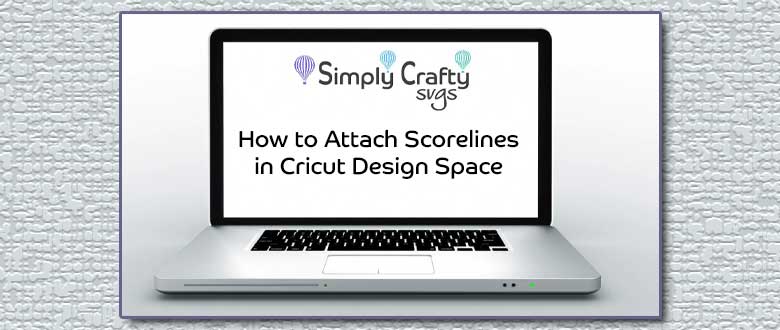 Today I have Ali from Cut, Cut, Craft! joining the blog. Cut, Cut Craft! has a lot of great resources for Cricut and Silhouette users, including but not limited to reviews, tutorials and info on where to get a lot of SVG freebies. We are honored to be listed as one of 23 Best Sites for Free SVG Files. Read on!
Hi guys!
If you're reading this you are probably having a bit of difficulty with a design that requires attached score lines. Maybe you're not quite sure what score lines are even for? Or you keep trying to use them and you wind up cutting them instead of scoring? Fortunately, this is a pretty common issue. Sandy has a great video tutorial that we're going show you, so you can either follow along here or watch her video below and then stop back if you still need a hand.
Let's do it!
What is scoring?
Scoring means putting a crease or indent on the paper, so it can fold easily and cleanly. For thick and heavy paper or cardstock, folding without scoring first can make the paper crack or rip, and you'll get messy folds. So to get the cleanest, professional-looking folds, it's important to score them first. On diagrams for paper crafts, score lines are marked as dashed or solid lines along which you'll fold, instead of cut. You'll see them on tabs and folded edges. We'll go over exactly how Design Space marks them so you can always make sure to cut your cuts, and score your…scores!
How to attach score lines in Design Space: step-by-step
In order to score lines with your Cricut, you'll need the scoring tool accessory. The Cricut Explore Air series and Cricut Maker both have dual heads to hold the scoring stylus and the regular cutting blade at the same time. But before you start scoring, you need to make sure to designate the dashed, dotted, or solid fold lines in your diagram as score lines in Cricut Design Space, and attach them to the layer that is being cut.
You can check out this video to see exactly how to do that!
Examples
That's it! With what you know now you can easily make something like this medium tumbler box:
or this graduation explosion box:
For more, super informative video tutorials, check out the Simply Crafty SVGs YouTube channel!
Don't forget to check out all the great content from Ali at Cut, Cut, Craft!