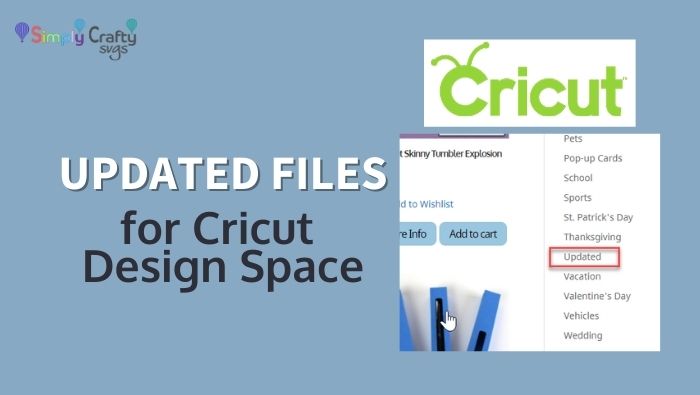 As of February 2021, Cricut changed the way they upload SVG files within the Desktop version of Cricut Design Space. When this happened, over half of our Simply Crafty SVGs' files no longer imported at the correct size. For Desktop app users, the files are mostly importing larger than intended. This only affected Cricut Design Space users. Although we discussed with the issue with Cricut support, they will have not reversed their import/upload methodology.
IOS iPad/iPhone Design Space users: Sizing issues have been an issue with our files since 2019. See this video: https://youtu.be/9x3yGx6yf-w
We started updating our files to make sure they import at the correct size at this time and also contain a complete file. This means we are slowly updating almost 500 files to help Cricut users only. Our files still upload into other software at the correct size, such as Sure Cuts a Lot, CanvasWorkspace and Silhouette Studio Designer Edition. Click here for more information on using the complete file.
As of this post, 110 files of the over 500 SVG designs on our site are updated. You can find the updated files by browsing to the Updated category in the online store. If you previously purchased the file, you may log into your account to download the updated file. This following video shows how to check to see if the SVG files have been updated to import at the correct size.
As noted earlier, the updated file will contain the complete file with all SVG files to import only once into Design Space. Should Cricut make another change affecting file import size, you can import the complete file and only have to resize ONE file rather than multiple. Complete files can be also used in other software like Sure Cuts a Lot and Silhouette Studio.
IF FILE HAS NOT BEEN UPDATED, use the following video to resize the complete file or individual files to the correct size. This is very important, so the files cut out at the correct size to assemble the project.
We do encourage you to watch these videos should you be having sizing issues with our files. If you have any trouble, contact us and I will get back to you as soon as possible.
-Sandy