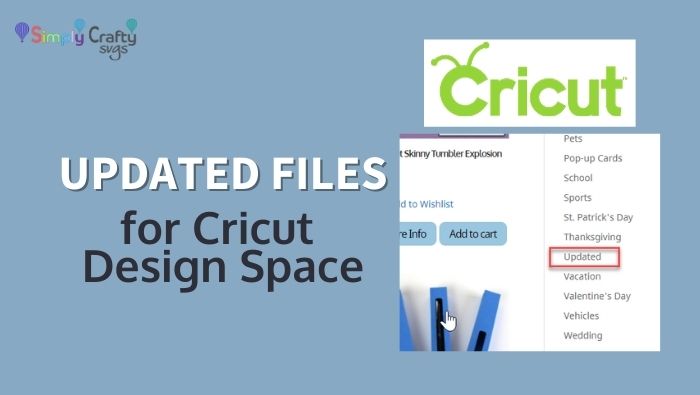 As of 11/10/2022, 560+ SVG files are updated and each of the SVG files includes a complete file, solidline scoreline versions of the SVG files for those that use score tools and improvements. We highly recommend using the complete file, which contains all the files within a SVG design. It requires one upload only. CLICK HERE for more information on using the complete file.
CLICK HERE for Updated Listing
These updates were originally completed to fix a sizing issue due to Desktop Design Space software update, make minor improvements to the files, and in some cases a minor design change. (See history section below regarding Design Space issue). Another over 25+ SVG files have not been updated with complete files, but they load into Cricut Design Space at the correct size.
Regardless of whether you use Cricut, these updates benefit everybody.
Find updated SVG files by going to the Updated category in the online store OR
See link at top of this page to View/Download a PDF Version of Updated Files with complete files, listed alphabetically by SVG file name. If you purchased a file prior to mid-2021 (affected SVG files have an asterisk * after name in PDF list), I would highly recommend that you download the most current version of the SVG File from Your Account. This fixes sizing issues in the Desktop app only. If you have any trouble, Contact us.
IOS iPad/iPhone Design Space users: Sizing issues have been an issue with our files since 2019. See this video:

Cricut Design Space IOS How to Use SVG files on an iPad or iPhone
Here is a video explaining.
HISTORY – Why did this happen?
In February 2021, Cricut changed the way they uploaded SVG files within the Desktop version of Cricut Design Space. It had to do with how their app technically read the code of the SVG file, which changed the size of the files. When this happened, a large number of our SVG files (over 340 files!) no longer imported at the correct size when using the Desktop Design Space app. The files were mostly inserting too large, as it was based on how the SVG file was saved. Nobody wants to read the details, but sizing was all over the place! I reported this to Cricut and provided detailed information on why it was happening, as I was not the only SVG designer affected. As of May 2021, Cricut still has not reversed their import/upload methodology, so I had to make mass changes, which takes a long time.
As noted earlier, the updated file contains the complete file with all SVG files to import only once into Design Space. Should Cricut make another change affecting file import size, you can import the complete file and only have to resize ONE file rather than multiple. Complete files can be also used in other software like Sure Cuts a Lot and Silhouette Studio. Again, CLICK HERE for a list of updated files, to verify you have the most current version.
If you have any other questions or if you need assistance downloading an updated file, contact us and I will get back to you as soon as possible.
Thank you!
Sandy