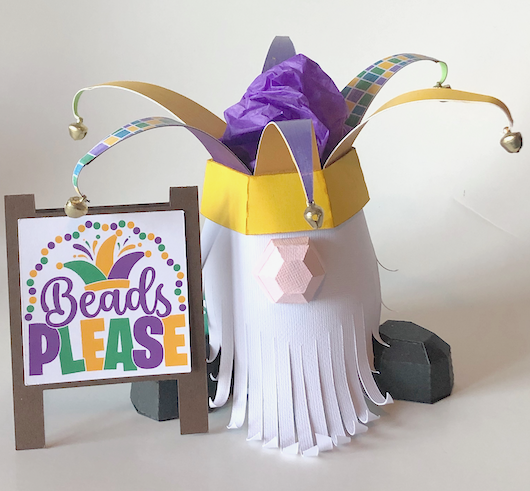 March is just around the corner and there's no time to waste if you're planning on celebrating Mardi Gras this year with a FUN new piece! Why not create a fun adaptation of the gnome file and celebrate with a Mardi Gras Gnome!
The Gnome SVG file got a bit of a makeover, and our new Mardi Gras gnome is looking forward to grabbing a few extra strands of beads before the party ends.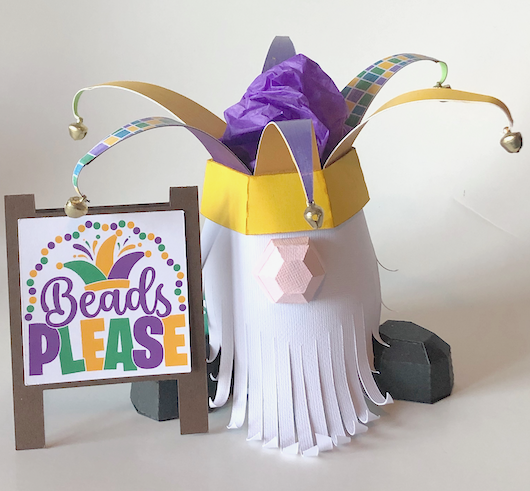 Cut and assemble the body of the gnome as described in the video (https://www.simplycraftysvgs.com/shop/3d_designs/gnome/).  For the hat, cut the panels using some double-sided patterned paper, the rim and decorative panel for the hat. 
If you don't have double-sided patterned paper make your own by gluing two panels, back-to-back (you'll need to cut 2 sets of panels). Lightly train the paper by curving the panels.
Next, join the tab for the brim.
Glue the panels to the inside of the rim of the hat with the pointed ends curling outward. Let dry. Add the decorative panel to the rim of the hat. If desired, add bells or another decorative element to the end of the panel at the point.

Place the hat on the gnome body. Adhere the nose and add any additional details you wish.
Fill the body of the gnome with a fun treat. Add a crumpled piece of tissue paper and let it puff up at the center of the hat area.
Of course, Mardi Gras isn't the only holiday in March… St. Patrick's day will follow in a couple of short weeks.
Check out this cute St Patrick's Day adaptation of the Gnome file!
You'll find the details for making this cute gnome here.
Need a few more ideas?
Check out these files! Links below the image.
Pot of Gold Treat Box

Leprechaun Hat Treat Box
Happy Crafting! Be sure to share your projects with us on our Facebook Simply Crafty SVGs Creators page. We love to see what you've been working on.