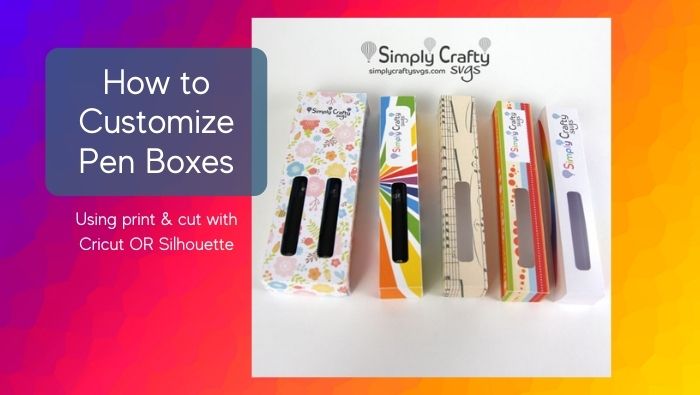 I recently designed two pen box SVG files, the Glitter Pen Box Single SVG File to hold one pen and the Glitter Pen Box Double SVG File to hold two pens. They were sized and designed specifically for the personalized epoxy glitter pens using Paper Mate InkJoy gel pens.
Although you can use solid cardstock to cut and assemble, you can easily customize theses glitter pen boxes with the print and cut capabilities available with both Cricut Design Space and Silhouette Studio Designer Edition. The photos below show you how much more fun the customized boxes are! I had so much fun personalizing my little pen boxes, I made a few tutorials to show you how!
This first video shows you how to use Cricut Design Space and digital paper to customize a pen box. I even show you how to add an image or logo, using the print and cut within Cricut Design Space. You just need a printer and a Cricut die cutting machines like the Cricut Air and Cricut Maker.
Since many also use Silhouette Cameo die cutters, I also made this video to show you how to use Silhouette Studio Designer Edition or above to customize the pen box. As with the Cricut, you need a printer to print and cut using the Silhouette Cameo die cutting machines. I illustrate on Cameo 3, but same steps will work with Cameo 4.
Here are all the boxes I designed using techniques on both Cricut and Silhouette. I used Silhouette to cut out the 2-pen box, as Silhouette Studio allows for larger printing size than Cricut, as of this post. Aren't they fun? My favorite is the rainbow one.
Are you ready to make one now?
Give it a try….it was super easy!