Create a whole different twist to the Easter Egg Box by adding a few fun details to the outside and inside of the Easter Egg Box file. It's always fun to change things up a bit.

To recreate this project, you'll also need the bunny, grass and eggs from the Bunny in a Basket Card; and the chick from the Easter Chick Treat Box for the inserts.
Once cut, the Easter Egg box is a very quick to assemble. The box panels are cut from the same color as the box base, the added details include foiled leaves (from FunLurn.com) and the flowers on the upper panels are made using some ink and a cotton swab. The two colors of the ink, create a soft, subtle look and the finished pattern almost looks like purchased printed paper. Bonus: It only takes a few minutes to add those flowers to the panels.
For the bottom panels, Jan used a basket weave embossing folder… and swipe the raised areas with the darker of the two inks used for the flowers on the upper panels. Lightly ink the edges of the panels before adding them to the egg base. Choose any pattern to decorate the panels…. That's half the fun!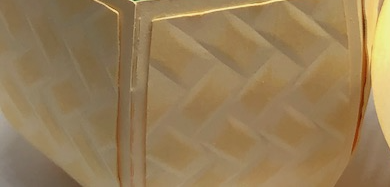 For the inserts on the inside of the egg, the grass, eggs, chick and bunny were resized to fit inside the egg. Measure the egg bottom opening from side to side to determine fit. Elements and placement will determine the size and height. Adhere them as desired on strips of cardstock and attach the strip to the inside of the egg box bottom with glue or strong tape.

There are so many different ways you can decorate the Easter Egg Box, inside and out!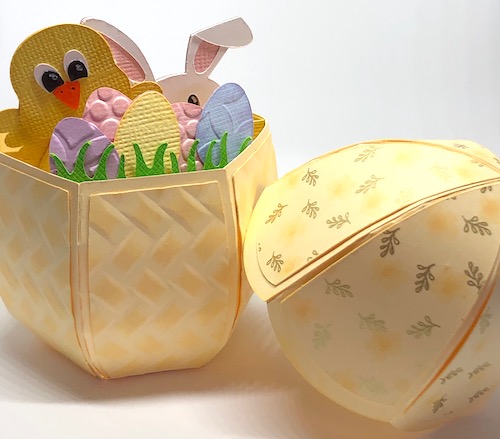 If desired, add some "grass" and a few jellybeans or chocolate in the back of the egg bottom. Add the top and your Easter Egg box is ready for gifting! Additional details for this project can be found on Jan's blog. Besides the Easter Egg Box, there are several other products you might be interested in.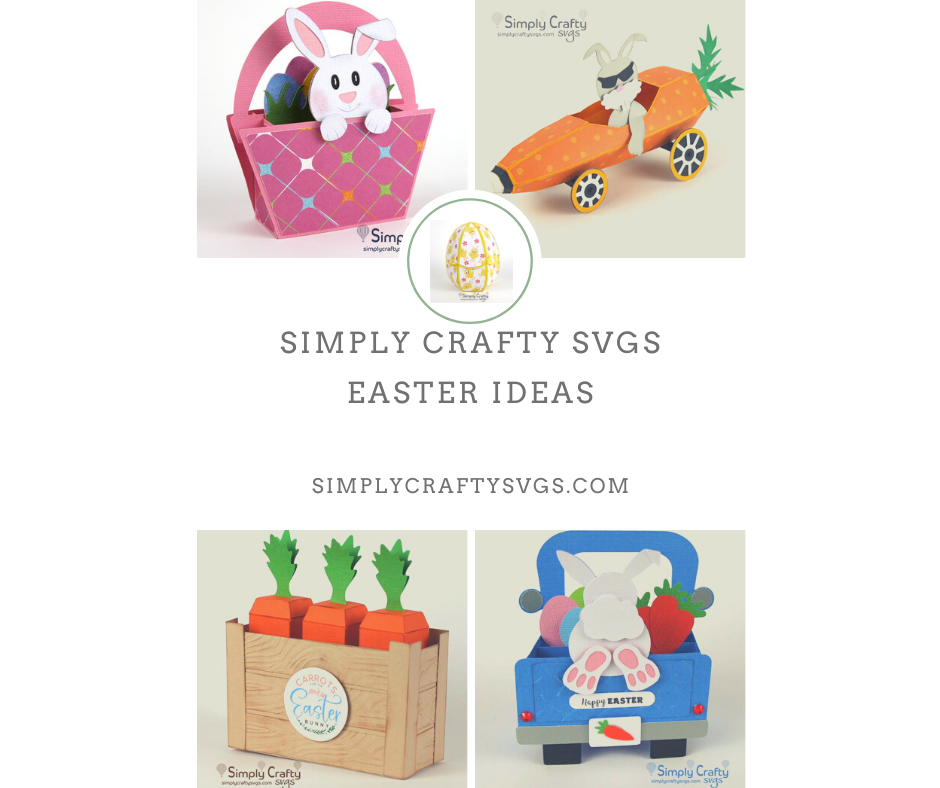 For a full list of Easter themed products, click here. And for additional ideas from other crafters, check out the blog!
Share your Easter makes with us on the Simply Crafty Svgs Creator's page. We'd love to see your work.