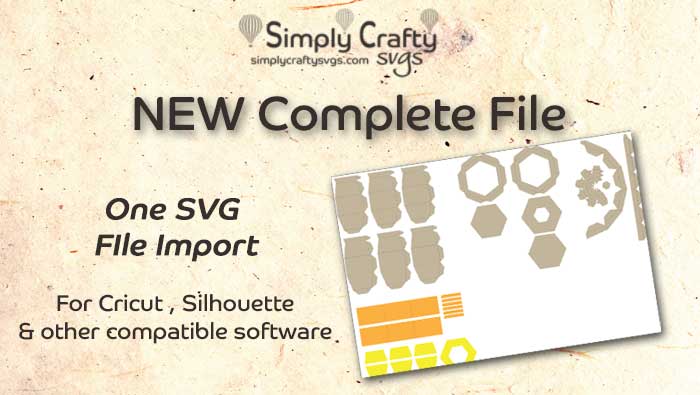 Starting May 2019, we now include a complete SVG file within our SVG files folder with each SVG design you purchase.  This complete file contains all the individual SVG files for ease of importing one single file versus several.  The single SVG files are still included for those that may find it more beneficial to use, such as Scan n Cut users.
Once you unzip the file, look for the Complete File folder within SVG Files folder with 2 versions of the complete file, one with dashed scorelines and one with solid scorelines (for machines that are capable of using solid scorelines). It takes a long time to update older files, so that this time we are not updating older SVG designs with the complete file.  We may modify them in the future.
Cricut Design Space
For Cricut Design Space users, this means there will be a few steps needed to use the file properly. After uploading the complete file into Design Space, you have to ungroup the file to attach the scorelines.  To help you, we created this brief tutorial on showing how to use the complete file.
IMPORTANT CRICUT DS UPDATE AS OF FEBRUARY 2021
If you use the browser-based Cricut Design Space, most of our SVG files will not import at the correct size. This video is not updated, as it reflects an issue from 2019 which was shrinking files to 11.5″.  Files are now coming in a bit larger than they need to be. You can still use the complete file, but you will have to resize the width of the file once to the width shown in the PDF reference document included with all SVG files. Video addresses this change.  Those using the iPad/iPhone app may have the files come in smaller, but can resize still within the app to the correct width shown in the PDF file.
Silhouette Studio Designer Edition and above
For Silhouette Studio Designer Edition and above users, it really only is a drag and drop into Silhouette Studio.  Then all you have to do is ungroup the file, combine the cut files by color as desired and cut them out. We even have a tutorial on how to use the solid scoreline file versions with your Cameo 3, if you have never done so. Click here to view the tutorial on using solid scorelines with your Cameo.  Most users still use the dashed scoreline version. Here is a quick video on using the complete file.
Other Die Cutting Software
The complete files can also be easily imported into Sure Cuts a Lot and eCAL using the standard import process. The individual SVG files will still be available for software that requires the smaller individual SVG files, like Scan n Cut and perhaps other die cutting software. If you ever need additional assistance, contact us and we will do our best to help!