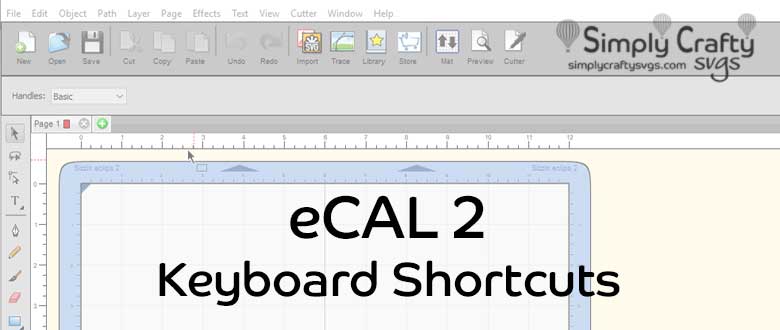 Many of you know I use multiple die cutting machines.  In addition to the Cricut and Silhouette die cutters, I own a Sizzix eClips 2.  The software I used with the eClips is eCAL 2, which is a specialized version of Sure Cuts A Lot for Sizzix eClips die cutting machines.  I am one that likes to optimize my time, so I am a fan of keyboard shortcuts in software. I was unable to find a nice handy compact reference for keyboard shortcuts anywhere, so I made my own and I am sharing it.
Here is the link to the reference PDF file:  Keyboard Shortcuts For Craft Edge eCAL 2.  This is a one page reference only. There are other shortcuts, but these are the most common. They have helped me optimize my time within the eCAL 2 software and I hope others find it helpful too!
As of 4/11/2018, CraftEdge support confirmed the Windows software version 2.035 does not currently have the keyboard shortcuts active for loading/unloading the mat. This may be added in a future update.
We also have a few helpful tutorials for eCAL 2 on our Youtube channel.  Here is the link to the playlist, which will grow over time.