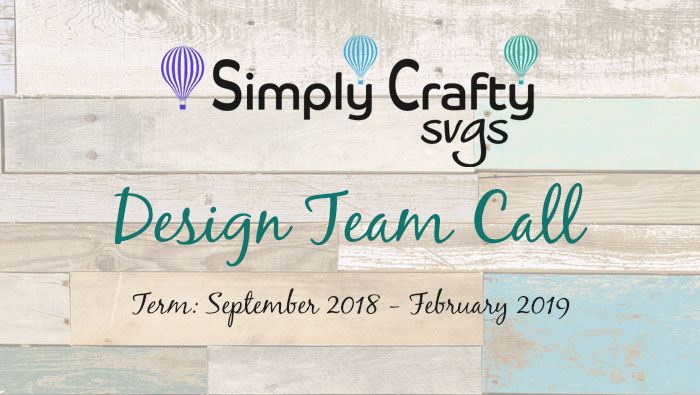 We are looking for 4 creative designers for the Simply Crafty SVGs Design Team, to add to our existing team of 4 designers and Design Team Coordinator. If you enjoy making boxes, 3D paper creations or cards with your die cutting machine, this could be the design team for you. Check out our design selection in our store. We are looking for all styles of design to help us showcase the designs. If you are interested, see requirements below.
Design Team Requirements:
6 Month Term (Sept 2018 – Feb 2019)
Complete one or two project per month with one of our SVG designs.
Must have an active blog and post your project monthly to your blog with details and pictures related to the completed project, with link back to the SVG design used. If you do not have a blog must have a Facebook page and post on various groups.
Participate in one Blog Hop.
Must have a Facebook Account – This is where all the information for the DT will be located. We have a Design Team group to communicate and collaborate.
Must share projects/blog links to social media via Facebook Groups and/or Instagram.
Benefits:
Be a part of a great, fun loving, friendly, and supportive group!
Receive Monthly Project SVG Design + Monthly Store Credit ( if just Facebook, then you will just receive the SVG file, but no monthly store credit)
More visits to your blog
To apply, send an e-mail to our Design Team Coordinator Debs at fudowpugs@hotmail.com and include the following:
Name
Country
Brief bit about yourself and why you would like to be a part of the design team
Blog link
2-3 of your favorite projects with photos
Die cutting machine you use
The Design Team call will be open until all openings are filled. I cannot wait to hear from you! Happy Crafting!