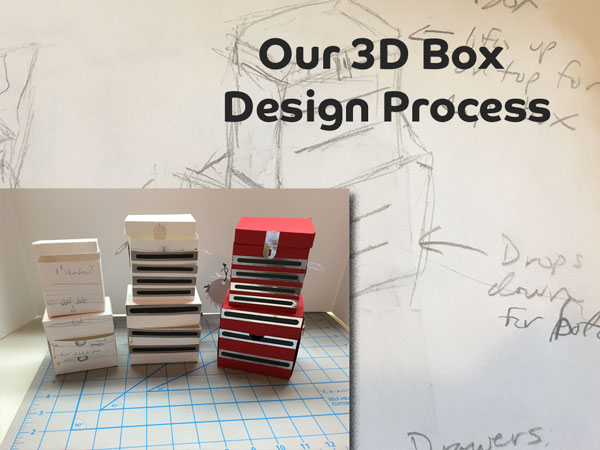 If you ever wondered what my design process, here is a insider glimpse into how my SVG design evolves.  Below outlines the design evolution from start to finish, from idea, sketch, svg creation, and then the final paper creation.  You will see elements of the process for the following SVG Designs:  Tool Chest Box, the Dog Box Set, and the newest Frankenstein Head Box.
Sketch the Idea/Design
I normally start with a rough pencil sketch.  I was not formally trained as an artist, but I always loved doodling and I am a lover of all things made by paper.
Make a Paper Model
With most of my designs, as these, I will make a smaller version by cutting out a model manually.  It is not pretty but it helps me with final the final design process.  Most times, it looks quite different from initial model to end and it obviously goes through many modifications.  You can see the progression below from the first paper model on the left to the final design on the right.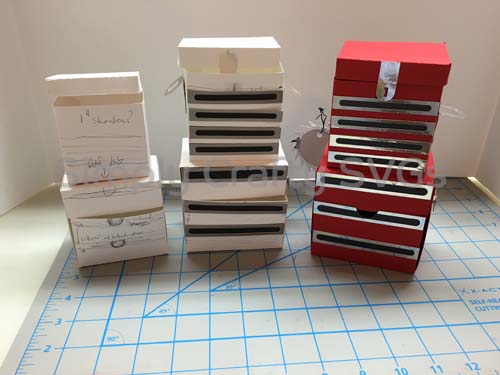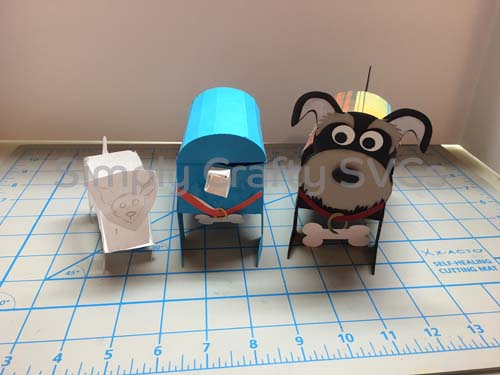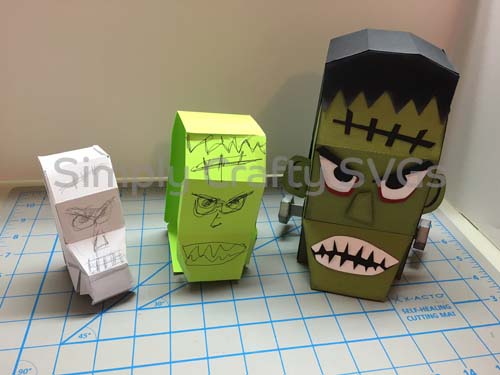 Create and Fine Tune Design
The first paper model is usually manually cut with scissors, but after the first, all the rest is done on the computer.  I use Adobe Illustrator and a few other applications in my computer design process.  As I go through the process, I will cut a few more files from my die cutter (usually Cricut Explore or Silhouette Cameo) to make sure everything fits together and in a matter that is easy for those using my files.  Once satisfied with all the changes, I save the files into their respective SVG files when I am satisfied how everything comes together.
That is it!  I am not saying that is all it takes to publish it, as there are many other hours spent creating assembly documentation, taking pictures for the documentation, etc.
I hope you enjoyed the little insider look into my crazy design process.  If you liked this, please like my Facebook page (link on right) or share with your crafty friends.
Sandy